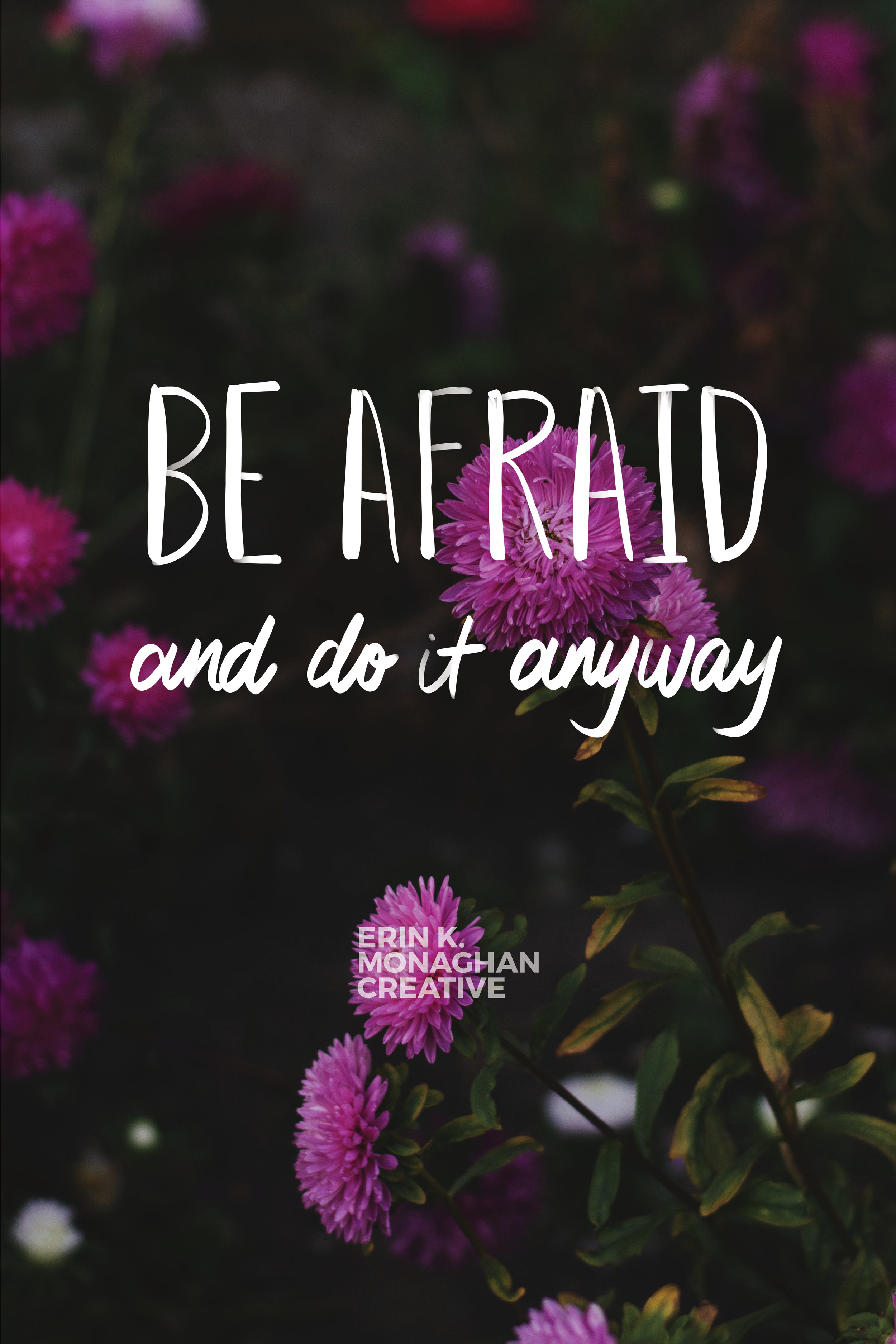 New here? Hi!
I'm Erin & I'm an artist.
I love sharing what I do, and I love creating things that inspire others.
The whole point of art is to make you think and get in touch with something deeper inside you.
So today, I tried something different. I created LIVE on camera one of the inspirational phrases that I found, and one that I can personally speak to a LOT.
BEING AFRAID …. and then DOING IT ANYWAYS.
(Can you relate?)
Come check it out here and watch.
In this video, I talk about the mindset behind the phrase itself and discuss why it's important, why it applies to you, and a little bit about my journey through it myself….
Because you're never alone.
I feel like it's a really easy thing to SAY and even want to buy into, but when the rubber meets the road, we can easily talk ourselves out of this stuff.
Think of something you're afraid to do — maybe its a livestream video. A lot of business women are afraid to use video to their advantage EVEN THOUGH they hear, see and even experience that it grows that know-like-trust factor instantly.
But when it comes to turning on the camera, a few things happen:
You blank

You don't know what to say

You're suddenly aware that everyone is watching

Or worse… no one is watching…

You think you say 'UM' too much
On and on…. a million reasons not to do the scary thing.
So you choke and you decide NOPE! I'll do it tomorrow!
And you do the same the next day, and the next … and it never happens and you're just quietly hoping its a temporary online fad that will disappear and you can keep hiding behind your screen.
I know it all too well.
Here's how you can get over yourself and do the scary things that bring you success:
Its ok to be afraid. Fear of taking a leap, of doing something new for the first time, of being unfamiliar,…. it could even be saying NO to someone you've always said YES to and you're scared of their reaction.
Fear is normal. You have to let yourself feel the fear for it to leave you alone.
Go BE afraid! It's ok to feel this way. You wouldn't be human if you were fearless….
Quit talking your brain out of normal behaviors, because it'll just make it worse.
Once you acknowledge it, you can move forward. Scream, cry, fret, eat your feelings, whatever…. but give yourself a time frame and I encourage you to get it all out on paper. Don't stew in it all day.
Give yourself permission to screw up whatever you're about to go do.
Take livestreaming for example…. you can delete it if its horrible!
(PS – it's never be as bad as you think)
And just so you know you are FAR from alone —— I used to have a glass of wine (or 2 or 3) before I did a live video because I was so nervous.
I also wrote out everything.
AND i even hid behind audio-only broadcasts for a while because it was less vulnerable.
YOU CAN DO HARD AND SCARY THINGS!
Here's another amazing side-benefit: If you learn to embrace your fear and move forward WITH it, it starts to apply (and help) in other areas of your life….
Relationships

Finances

Health
You'll be more equipped when the real emergencies do show up.
The more you do it, the easier it gets.
You may be pleasantly surprised. I really enjoy video now, and a year ago it was like the scariest thing ever.
Thanks for watching the video – I'd love to hear what you think. <3